Digital odometer correction repair service
Mileage Correction Service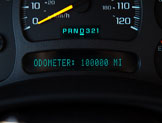 AutoXpressTech provides an odometer correction service when the digital odometer reading has been affected by an electrical malfunction, lightning strike,or mishaps. We can also reset a replacement cluster to the automobile's original mileage.
An odometer reading reflects the miles on the chassis not the motor
The odometer correction service is provided only when the customer fills out the odometer disclaimer affidavit in it's entirety and it is received with the unit to be reset .Customers requesting this service understand that they must by law communicate to any prospective buyers that the mileage has been altered. It is unlawful to adjust the mileage reading for personal gain and that they can be prosecuted for doing so by state and federal laws.
AutoXpressTech reserves the right to refuse work without explanation